Jacci Hood-Miller · Interior Concepts
720 N. 530 East, Orem · (801) 225-7791
In 1991, Jacci Hood-Miller started Interior Concepts
design house as a small business that rapidly Expanded it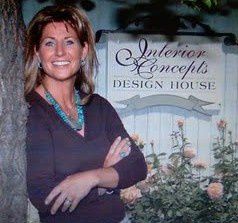 s focus to the custom home market. She has been privileged to work with the top builders and subcontractors in the area. "My favorite aspect of this business is the coordination and interaction with the homeowner, builder and subcontractor,"
Jacci says. "When a project is completed and it reflects the
homeowner's personality and the skills of all the people involved, I appreciate more than ever how satisfying my job is. I can't imagine doing anything else." Like many business owners, Jacci faces
the constant challenge of balancing her time. She's learned that family, work and play each deserve individual attention. "When I first started the business, it was more difficult to keep a balance,"
Jacci says. "I worked too much, so I had to set some time limits and really stick to them. Now that the business systems are in place, it's easier to figure out how to take care of family, squeeze in ski days and still take good care of the business and clientele. Life is too much fun to just work, even if it's a really great job."
---
---
---

Kathy Oviatt / Principle
Allied ASID
If asked, Kathy´s clients would say she is truly a perfectionist. Her attention to detail and sincere intent to fulfill her clients most specific needs result in projects that are uniqueand excellent in design. Kathy´s design objectives revolve around making creative environments that are also beautiful and functional yet different. She has enjoyed working on a variety of different projects, including retail stores on Historic Main Street in Park City, Sego Lily Day Spas in Layton and Midvale, and various projects including a luxury houseboat and vacation homes. She has also completed many commercial projects from medical to corporate offices. Her award winning residential projects range in style from modern to European.


Kathy´s earned a degree from Weber State University and over the years has continued to take design and business courses to keep up with her strong desire to keep up with the ever-changing world of design. Through years of community and volunteer work, Kathy´s extraordinary people skills are a driving force in the success of Oviatt-Pratt. Paired with her design work, Kathy´s overall business mentality contributes to her dedication for cohesiveness between business and design.
---
---
---
WELCOME TO AMB DESIGN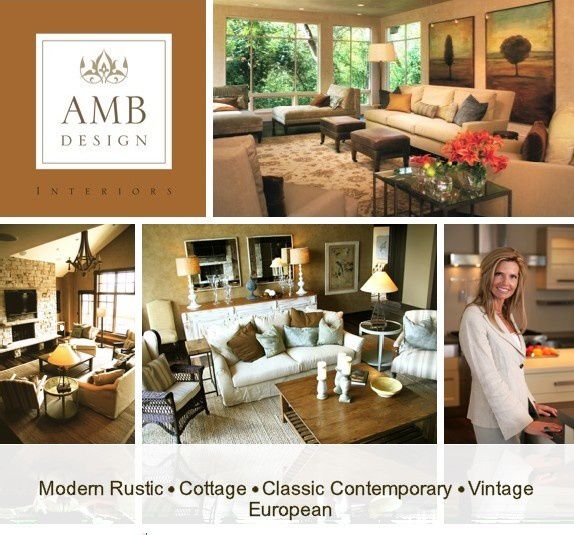 With over 15 years experience, Anne-Marie Barton's full service firm delivers ultimate design detail from the architectural phase through the placement of furnishings. AMB's projects radiate warmth and livability while assuring the much needed "surprise for the eye" in every room. AMB provides one stop shopping with in-depth floor plan consultation and drawings, furnishings, appliances, custom cabinetry, floor and wall coverings and lighting design. This client-based firm is known for its customer service and professionalism throughout its high-end residential and commercial projects.
4680 Kelly Circle Salt Lake City, UT 84117
Tel 801.272.8680 Fax 801.274.1714
---
---
---
---
We take your vision and turn it into reality. Our philosophy is to create incredibly beautiful spaces that reflect our client's own unique tastes, personalities and lifestyles.
Our company is based on the belief that our customers' needs are of the utmost importance. Our entire team is committed to meeting those needs. As a result, a high percentage of our business is from repeat customers and referrals.
We would welcome the opportunity to earn your trust and deliver you the best service in the industry
Mathis Interiors has been in the design business for 8 years now and we are committed to outstanding design and decorating work. Joanne Mathis has created what dreams are made of when it comes to servicing our customers. Please read our testimonials and you'll see why referrals are the main line to our business


Customer testimonials

Date: June 3, 2009

Hello Joanne ,

I just wanted to let you know that Our home is beautiful and Charlie and I are still in awe of what you have accomplished. Your professionalism and time management is appreciated. Every time someone comes over they want to know who decorated our home. I know you have been bombarded with lots of phone calls. Again, thank you for being so patient and knowing of our life style when you decorated for us.

Best regards,

Charlie &Betty Markson
---
---
---
For 0ver 30 years Terry Ann Olsen has been active in the design community in various capacities throughout Utah, and has recently joined forces with Foremost Interiors to expand their design department and to make their many products and services available to the design trade. Terry most recently was President and partner of Steve Peterson Interiors Unlimited, an ASID Industry Partner and design studio founded in 1974, who were also members of the prestigious International Design Guild.

From Inspiration to Installation, Terry has coordinated some of Utah's most beautiful homes and resort properties. She has won many awards for her design, received the Best of State award for five years and has been featured in several publications including Utah Valley Magazine, Salt Lake Living and Architectural Digest. She has appeared on HGTV's designer challenge as well as a guest on many radio and television programs. Terry has served on the board of the Provo/Orem Chamber of Commerce and as a mentor for UVU's business department. She is active in several Home Builder's associations and has designed Parade homes every year since 1986!

Terry is originally from Salem Oregon and is proud to be a "tree hugger." She and her husband Steve have a combined total of three daughters: Holly, Heidi, Whitney and one son, Dane. Daughter Holly has blessed them with three beautiful granddaughters. Maison is 9, Addi is 6 and Haidon was born on Terry's birthday, Sept 18. Steve and Terry are certified scuba divers and enjoy traveling anywhere anytime! They especially enjoy any sunny beach, Europe, and their next dream trip is to Italy.
BACK TO CONTACT US

CONTACT TERRY: terry@foremostinterior.com